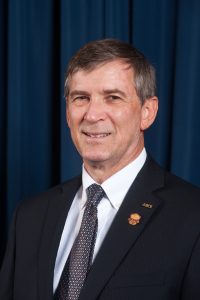 Ask engineer and historian Raymond "Paul" Giroux to describe his recent recognition as a Distinguished Member of the American Society of Civil Engineers (ASCE). The first answer you will hear is "humbling."
Giroux, a '79 construction engineering graduate of Iowa State University's Department of Civil, Construction and Environmental Engineering (ISU CCEE), accepted the prestigious honor late last month at the ASCE 2016 Convention.
As one of only nine engineers to be named a Distinguished Member of the ASCE this year, Giroux joins an elite group of just more than 200 living award recipients.
"It's very humbling," Giroux said of the honor. "It makes you take pause and reflect upon the people that have mentored you and inspired you throughout your career."
A senior estimating manager at Kiewit Infrastructure West Co. in Vancouver, Washington, Giroux's engineering and management career has spanned a number of mega projects. The Fort McHenry Tunnel and the San Francisco Oakland Bay Bridge East Span are two major examples. The engineer is as interested in the history behind projects as the engineering work.
"As Paul's career evolved, so did his passion for historical engineering feats," Terry Wipf, department chair for ISU CCEE, said. "He enthusiastically shares his understanding of engineering, as well as his appreciation for how engineers improve our quality of life, to audiences worldwide."
Giroux shows that enthusiasm for both engineering and historical engineering achievements in several ways. In a news release earlier this year, the ASCE cited that he has presented more than 200 lectures to nearly 60 engineering schools. That is in addition to the hundred talks Giroux has given at public and professional venues. And at ISU CCEE, Giroux has provided mentoring support for students, faculty and staff. He especially encourages students to practice leadership, communication skills, and problem-solving skills whenever possible.
"Over the years I've met some really remarkable young people," Giroux said. "What I want to communicate to young engineers is that they can achieve remarkable things. They just need to have that willingness to step out of their comfort zone."
Giroux is a 2016 recipient of the Norm Augustine Award from the American Association of Engineering Societies. He has been awarded ASCE's History and Heritage Award and G. Brooks Earnest Technical Lecture Award. Read more about Giroux in this department's previous article, "Paul Giroux: engineer, builder, amateur historian," and check out videos from the ASCE Distinguished Members Induction.
Continue to connect with CCEE and its alumni's stories online and on social media. Check out our Facebook, Twitter and LinkedIn (Iowa State University Department of Civil, Construction and Environmental Engineering and ISUConE). Or check us out online at ccee.iastate.edu.