Lauren Ruchti works as undergraduate research assistant at the Institute for Transportation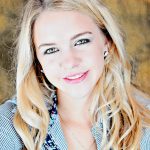 As a junior in civil engineering, Lauren Ruchti is making sure she learns as much as she can about the practice of structural engineering to prepare for her career.
Through her experience as an undergraduate research assistant, Ruchti is investigating important topics, like how bridges are rated for agricultural vehicles since the structures are currently only rated for trucks. During fall semester of her junior year, she researched how to continuously monitor bridge health and stability and how to repair bridge railings.
She's also gaining valuable knowledge through internships. While working for Mead and Hunt, an architectural and engineering firm based out of her hometown in Madison, Wisconsin, she learned about building specifications and airport construction quality control during two internships. In June, Ruchti will begin an internship with Boeing Defense, Space and Security, in Saint Louis, Missouri, focusing on stress engineering.
Ruchti says civil engineering was a natural fit for her, "I have always been interested in buildings and classes related to structures, such as statics and mechanics." And she knew Iowa State would be the best place to learn more about her interests, "The College of Engineering felt like a really supportive environment and a good place to learn."
She adds that her engineering classes have served as a foundation for her professional growth. "I have learned a lot of applicable knowledge from getting an education from Iowa State that I can use in my internships and research."
Ruchti builds her knowledge base through campus activities as well, including the Steel Bridge Team, Undergraduate Student Advisory Council, Tau Beta Pi, and the Rifle and Pistol Club.
In the future, she plans to continue to work on structures, specifically buildings, and pursue a master's degree.