A chemical engineering student is learning about advancing the future global economy thanks to a scholarship opportunity.
Brain cancer survivor, high school valedictorian and Cargill Global Scholar are just three things Augustine Villa has achieved in his 21 years of life.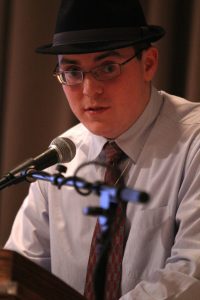 But that's not all Villa, who is a chemical engineering major with Spanish minor, has planned. In the two years he has left at Iowa State, he wants to intern with companies and possibly study abroad in Central or South America. He says a drive to apply his talents in a global setting keeps him moving forward.
And he's hoping being a Cargill Global Scholar will allow him to unleash his full potential to the world.
The Cargill Global Scholars program introduces students to leadership through training modules, mentoring, and coaching by Cargill employees. Scholars are also given the opportunity to network with Cargill businesses and employees, as well as other undergraduate students. The program is available in Brazil, China, India, Russia, and the US.
Villa, along with Hieu Nguyen (economics) and Lissandra Villa Huerta (journalism, political science), were selected from Iowa State.
He applied for the program after learning about it from Hillary Kletscher, a 2012-2013 Cargill Global Scholar.
"Hillary had nothing but good things to say about the program. As I read more about it, more benefits and reasons to apply became evident to me, and I continued to get more excited," he said.
Even the application process was valuable for Villa, who says it encourages students to think about their future and goals. Now that he's a scholar, he will continue to enjoy the lessons and connections the program provides. He recommends that all high-caliber students with a global focus consider applying to this opportunity.
Villa's desire to work internationally matches well with his degree in chemical engineering, which he is pursuing because it incorporates his interests of math and science.
"I saw engineering as a major where I would be able to apply my skills toward solving real world problems and improving the lives of others in a meaningful and measureable way. I also chose engineering because of the flexibility it presents; as an engineer I could work in virtually any industry or country in my future."
Before coming to Iowa State, he was the valedictorian at Dowling Catholic graduation, which was his most memorable experience in his life to date.
Two years prior, he was fighting a brain tumor during his sophomore year of high school, a situation that he says only made him stronger.
"The experience completely changed my view of life, and gave me a new determination to make the most of what I have been given from this point onward, giving back along the way."