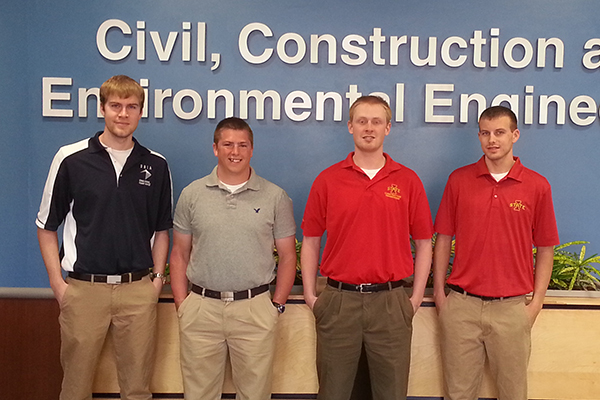 Iowa State University construction engineering students will represent the Midwest in the Third Annual National Design-Build Student Competition.
A team of students, comprised of construction engineering seniors Eli Hemesath, Brandon Mai, Brandon Griffin, Josh Olson, as well as construction engineering freshman Lauren Bennett, placed first in the Region D Design-Build Competition, hosted by the Design-Build Institute of America (DBIA). Region D includes universities in Iowa, Kansas, Minnesota, Missouri, Nebraska, North Dakota, and South Dakota.
Their request for qualification (RFQ) challenged them to a pre-construction schedule and cost report for the construction of a 120,000 square-foot university recreation center, located at Beloit College in Beloit, Wisc. The 47-page RFQ report demonstrated that the student team could assemble information and propose a construction contract for the center, much like a real contractor.
Students pooled their competition and internship experiences to build the regional-winning plan. Hemesath shared knowledge from his fall 2013 Associated Schools of Construction design-build competition, where Iowa State placed third. In the DBIA regionals project, both Hemesath and Olson used Primavera P6 software to produce a pre-construction schedule. Griffin contributed knowledge of the RFQ/RFP process he learned at his Ryan Companies internship to produce a cost report, with the help of Mai. Bennett simulated the construction safety manager role on the project.
As the top Midwest team, the DBIA Iowa State University Student Chapter team received $1,500 to be used for traveling expenses to the 2014 Design-Build Conference and Expo in Dallas, Texas. The team awaits the national competition, a request for proposal (RFP) on Sept. 15, 2014. They will only have one week to complete the RFP and submit to DBIA. DBIA will then announce the top three national finalists Sept. 30. On Oct. 8, the national first place team will be announced during the Design-Build Conference and Expo.
Jennifer Shane, associate professor and Black & Veatch Building a World of Difference Faculty Fellow, advises the DBIA Iowa State University chapter. Lecturer Beth Hartmann served as technical adviser for the team this spring.