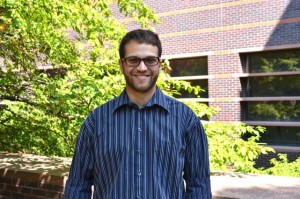 As Travis Sippel settles in at the College of Engineering, he's bringing his work with energetic materials—a line of research he believes will complement the work already being done in the mechanical and aerospace engineering departments—along with him.
"Something that really excited me about Iowa State is the potential for collaboration," says Sippel, who was impressed by the large amount of collaborative research being done by faculty and students on campus.
Sippel has mentored and worked with both graduate and undergraduate students in labs at Purdue University and says he has always liked explaining things to people.
"New ideas and discoveries should be shared among people, so that's probably the biggest reason I decided to pursue teaching," he says.
Sippel is also looking forward to continuing his research in Iowa State's innovative environment. His work in energetic materials includes propellants, explosives and pyrotechnics.
One of his current projects involves trying to make rocket propellants burn more efficiently. Specifically, Sippel was looking for a way to make aluminum a more efficient fuel in propellants.
He realized the problem was a bit more complicated than he thought. The answer, he found, is to use nanostructured particles that burst into much smaller particles during combustion.
"So far, we have only developed temperature-sensitive particles," Sippel says. "It is possible to incorporate other materials into metal particles, possibly making them sensitive to electromagnetic, piezoelectric or other stimuli."
These particles may enable the development of new energetic materials sensitive to stimuli that haven't been looked at yet.
Though he has produced the nanostructured aluminum particles, Sippel says his work has been mostly fundamental.
As an assistant professor of mechanical engineering, Sippel plans to start new research similar to his current work, with hopes to study the use of hierarchical nanostructured energetic materials in new applications.
"One reason these are really interesting materials is that for those particular applications, the amount of energy you can store in these reactions—between heterogeneous nanostructured materials—is extremely high," says Sippel.
The heat released from this new material is much higher than that of traditional material like TNT, and Sippel says it "represents a class of material that has unsurpassed potential for heat release." It also has many applications, including energy storage.
Sippel earned his bachelor's degree from the University of Kansas, where much of his family attended, and his master's and Ph.D. from Purdue University, all in mechanical engineering.
He says he knew early on that mechanical engineering was the right choice for him. "From a young age, I had a strong fascination with how things work, and that meant looking inside to see how different components were operating."